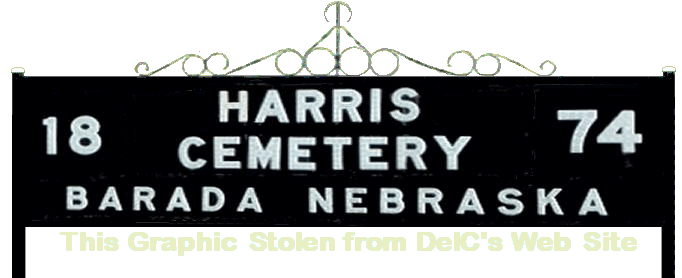 This page added 01-14-2003 - Last updte 07-18-2010
Go to Richardson County Cemeteries Home Page Harris Cemetery Main Page Heim Cemetery
Do you Have Headstone Photos you would like posted on this site? email to: (Click Here)
Click on a sur-name to find headstones or just scroll down the page.
Not a complete listing of all headstones - Check back in a month or so for updates.
You may copy headstone photos for Personal Use Only. You are not allowed to copy photos & submit to other sites.
- Copyright © and Trademark ® laws apply to all of these pages -
---
Back to Sur-Name List ® Copyright Protected ©
Back to Sur-Name List ® Copyright Protected ©
Back to Sur-Name List ® Copyright Protected ©
® Copyright Protected ©
---
---
---
You Are Visitor
---
---